Giving Thanks for Pinot and family. But mostly Pinot.
Myles Lawrence-Briggs
Co-Founder

Harvest is finally over, which means I have time to interact with the world outside the crushpad again. Venturing out on my first day off in weeks, shocked and amazed at how different my driveway looks in the daylight (I think the landlord got tired of waiting and pulled my dead sunflowers out himself), I noticed some changes. 
Christmas lights and plastic snowmen adorn my neighbor's house, my local coffee shop is offering peppermint mochas and the occasional Christmas jingle can be heard at the local grocery store. Thanksgiving must be near.
This brought on a fresh wave of panic as I contemplated the prospect of visitations from relatives and all the preparation and stresses a big family thanksgiving dinner ensures. Like how that one aunt still thinks you're in college, or mom and dad worrying about your lack of a girlfriend. Or maybe how your niece or nephew has yet to grow up or how your son or daughter doesn't get out there and socialize enough. I suppose it depends on your perspective.
My fears were quickly assuaged, however, by two things. First, my mother is a rockstar chef and does most of the cooking (I swear I'm going to help out this year though). But second, and more importantly, I remembered our 2012 pinot will be ready to drink by Thanksgiving and we'll have more than enough in the house to keep everyone mildly tipsy and mostly civil. But what turkey dish pairs well with a pinot? I did a little googling and asked my chef friends and came up with a suggestion. It's lighter than your usual turkey roast, and should pair well with our 2012 pinot!
-Myles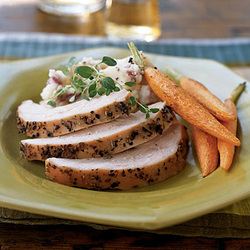 Honey and Thyme Brined Turkey Breast:
Ingredients:
7 cups water, divided

3 tablespoons freshly ground black pepper, divided

6 thyme sprigs

1/2 cup kosher salt (such as Diamond Crystal)

1/2 cup honey

1/4 cup packed brown sugar

2 cups ice cubes

1 (6-pound) whole bone-in turkey breast, skinned

2 tablespoons olive oil

1 tablespoon chopped fresh thyme

Cooking spray

Fresh thyme sprigs (optional)

Preparation:

Combine 1 cup of water, 2 tablespoons pepper, and thyme sprigs in a small saucepan. Bring to a boil, and remove from heat. Pour into a large bowl; cool to room temperature. Add remaining 6 cups water, salt, honey, and sugar, stirring until salt and sugar dissolve. Pour salt mixture into a 2-gallon zip-top plastic bag. Add ice and turkey; seal. Refrigerate 24 hours, turning the bag occasionally. Remove turkey from bag, and discard brine. Pat turkey dry with paper towels.

Rub turkey with oil. Combine 1 tablespoon pepper and chopped thyme; rub over turkey.

Preheat oven to 400°.

Place the turkey on a roasting pan coated with cooking spray. Bake at 400° for 1 hour or until thermometer inserted into thickest portion of the breast registers 180°. Place turkey on a platter. Cover with foil; let stand 15 minutes. Garnish with thyme sprigs, if desired.